When it comes to marketing, planning is key. If you want to crush your next marketing campaign, you need the right tools in your arsenal. That's why we've put together a list of the best marketing planning software tools. These tools can help you plan and execute your marketing campaigns with ease, organize your media, analyze your results, and collaborate with members of your marketing team.
My name is Aleksej Kruminsh and I'm a digital marketing consultant. My team manages e-commerce stores and we do a lot of marketing strategies and planning for our clients. In this article, I share my own experience on how to do media planning and which marketing planning solutions are suitable for us.
Benefits of marketing planning
Media planning helps us in many ways. But communication planning without implementation is just a talk. This is why marketing planning software also needs to have some features for task management and team collaboration.
By using marketing planning software, we can create detailed marketing plans that include all of the necessary steps and tasks required to successfully execute a marketing campaign. This software also allows us to track our progress and results, so we can see what's working and what isn't.
Do you really need marketing planning software?
Very often we want to use marketing software just because we don't know how to do it in the right way. If you don't know how to create an effective marketing strategy for your business, first of all, read my other article on how to do it correctly. If you just need to visualize your existing marketing funnel to find weak steps in your purchase process read that article too.
Okay, back to marketing software. Every marketing plan starts with understanding your goals and budget. Usually, you can split the marketing plan into these parts:
Campaign goals
Timeline for delivery
Marketing activities
Responsibilities
Budget
When you figure it out you can choose which planning software to use.
What is the best marketing planning software for your team?
Choosing marketing planning software you need to understand which tools you already use in your team and what is missing. It's not necessary to use complicated marketing planning software if you will use it only for marketing proposal or for marketing strategy.
If you already use any project management software check first if it is possible to use it as marketing planning software. Many project management tools already have templates for marketing planning.
For example, our project management tool Clickup has all tools for marketing planning:
visual collaboration tool
presentation tools
marketing calendar
Gantt charts
Kanban boards for project tracking
time tracking
And many other tools that can help improve your marketing processes.
5 marketing planning tools
I already wrote about marketing automation and how it is important for small and medium businesses. Marketing planning software helps us save time too. Using a marketing planning tool, we can automate many of the tasks associated with digital marketing execution and project planning.
This is my personal top best software for marketing planning: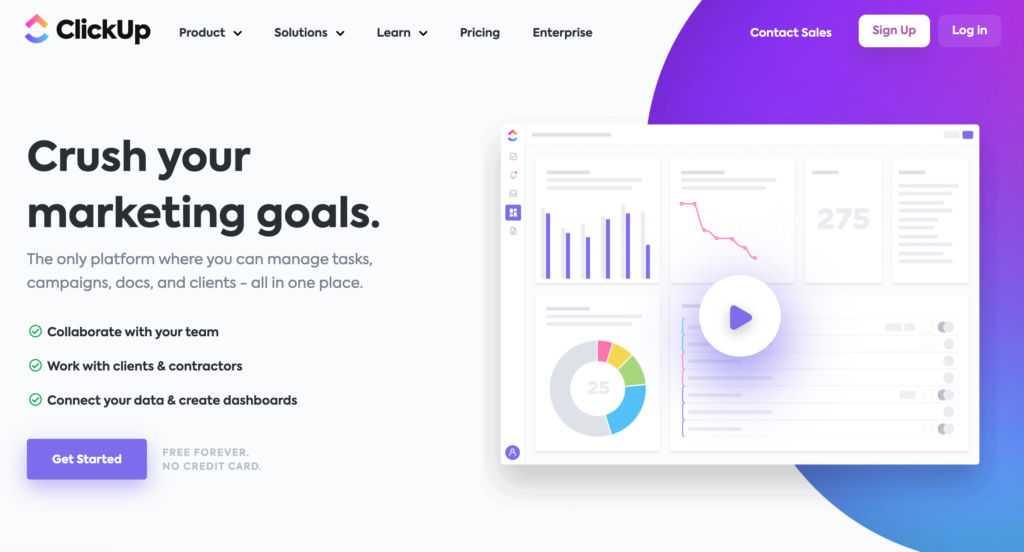 This is two in one solution for our team – this is a project management tool and also our marketing planning software. ClickUp software is flexible and user-friendly. It has a lot of features for marketing planning: from marketing calendar to marketing Gantt charts.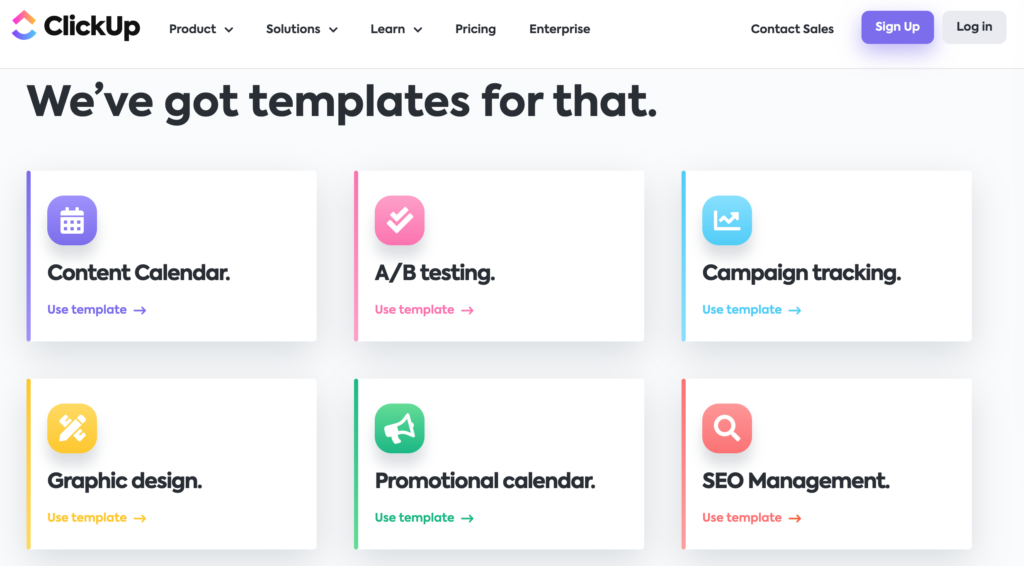 It will help you organize all marketing workflow in one place. And most important it not only has a free trial, but it also has a free forever plan. And of course in cloud based platform.
This is a marketing management platform created especially for a marketing team.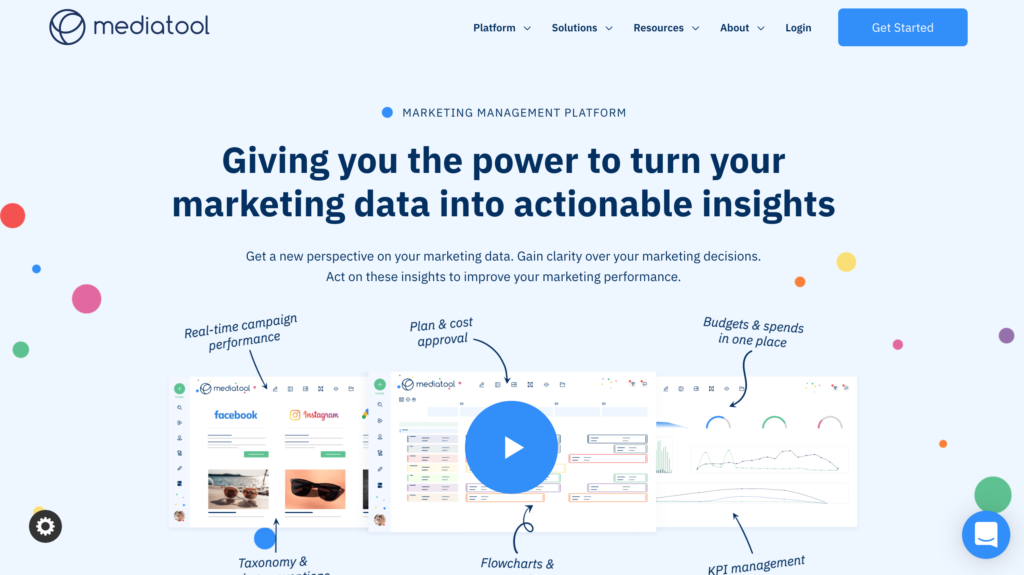 Mediatool helps you manage every step of your marketing activities. From briefing to presenting your results. A great solution for an advanced and big team.
Is another software solution for marketing projects. It's great for marketing budgeting. This marketing planning tool allows you to control your costs and measure your ROI. Especially if you understand how funnels work, this marketing tool will be interesting for you.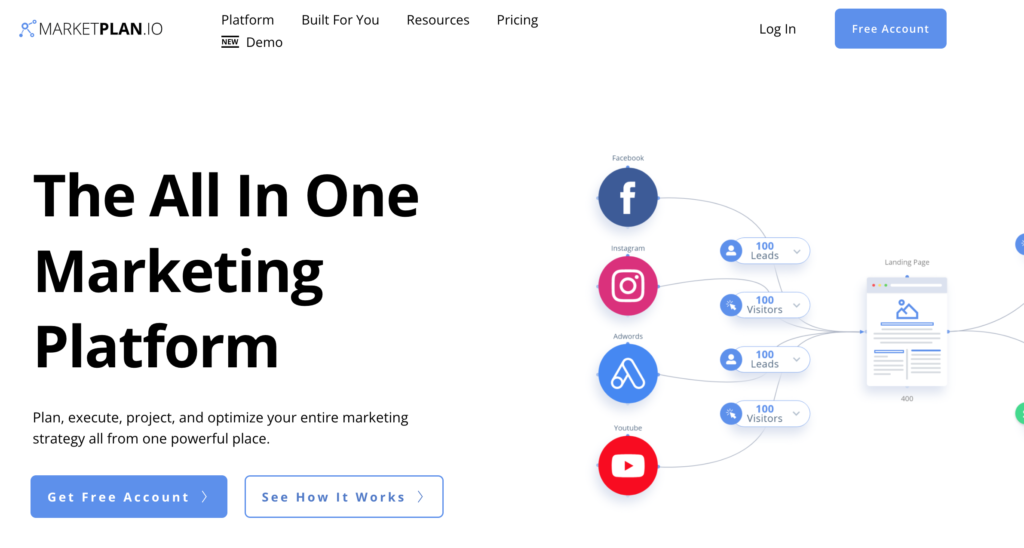 Downloadable Template for Marketing Planning
Yes, it sounds strange. But this template is really good for beginner entrepreneurs and small media businesses who would like to systematize their marketing strategy.
It will help you not only clarify your communication but also plan your future marketing campaigns. Highly recommend.
Wrap Up
There is no one-size-fits-all answer when it comes to marketing planning software or project management solution. The best marketing planning tool for your team depends on your specific needs and goals.
If you are a solopreneur or a digital marketer I recommend you also check these articles: