Some of you might think, "Is email marketing still effective in 2022?" The answer is Yes, it is doing wonders.
All because of timely advancement and automation that occurred in the past year made email marketing services for small business smoother and more effective. Believe it or not! It is one of the effective ways to interact with your audience. We send and receive billions of emails daily, and the below stats show how it is increasing with every passing year.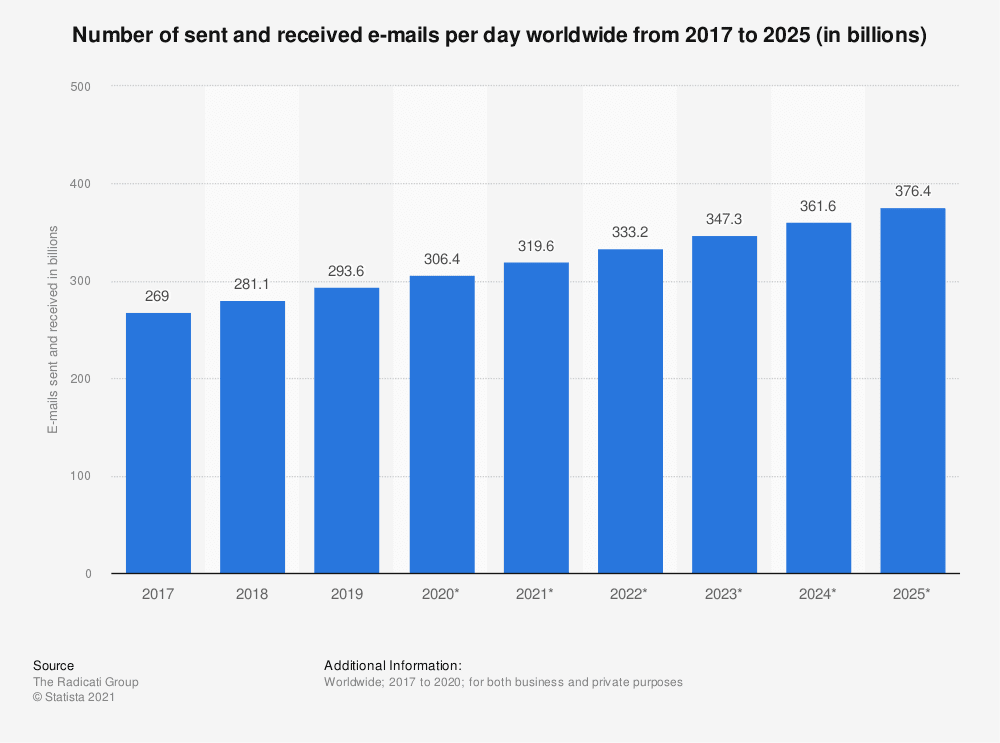 What is the Best Email Marketing for Small Business?
If you land here, that means you seek the right email marketing service for your business. So Don't fret! This research will resolve your queries, but before moving further, you need to understand "Why is email marketing good for small businesses?"
Here are some facts that support the effectiveness of email marketing for businesses:
According to Litmus's State of Email 2021, ROI $36 is generated by email marketing for every $1 spent.
There are 87% of B2B marketers use email newsletters as a distribution channel.
In 2021, email marketing lies in the top 3 channels marketers use, and it lies alongside the website/blog.
These figures alone can help you see that email marketing is still the king of all marketing.
These facts are shared by professionals who know how to use email marketing effectively. But, what about small business owners or beginners! They are the ones who are looking forward to marketing email tools to support their email marketing strategy.
But if you surf over google, you can find bulk email marketing services, and that's enough to raise multiple questions in your mind like "Which tool to choose? Is it right for beginners? Or Does it align with your Needs?" Such questions will blur your mind while selecting the right tool.
So, What is the best email marketing software for beginners?
Let's introduce you to 6 budget-friendly email marketing platforms that align perfectly with beginners and small businesses. Our research takes you through the best platforms by giving their characteristics, features, and pricing that aligns best with beginners:
Overview
Moosend is one of the best marketing email platforms with world-class features that boost your marketing game. It allows you to explore the world of email marketing to create a responsive newsletter that indeed amazes your subscribers.
Its features like automation saves valuable time by scheduling your campaigns, and advanced reporting capabilities track their performance based on receiver behavior. In addition, the platform unlocks flexibility to create an attractive campaign using Moosend drag and drop Campaign editor. In this way, your customer receives personalized email content that matches their unique needs.



G2 User Rating
Top Features
Easy to Use Dashboard: Moosend's interface gives you a glimpse of all your work in an easy-to-understand dashboard. The dashboard provides an overview of all your email marketing works and shows new customers' general information in an infographic form.
Robust Automation: Moosend's robust automation feature makes it easy for businesses to manage their marketing responsibilities. At last, all you need to do is start the trigger, and automation will do the rest.
Segmentation And Personalization: Help establish influential relationships with the customer by sending targeted newsletters. For designing targeted newsletters, personalization is important, and it is done by gathering and using specific data fields like Age, Birthday, Gender, Location, Recent Purchases.
AI Marketing Automation for Ecommerce: No doubt it is a perfect feature for an eCommerce website or platform like Shopify, Woocommerce. You have to start with creating segments for the targeted campaigns. It also comes with product recommendations, abandoned cart emails, and shoppable emails.
A/B Testing: With the A/B testing feature, you can test two-campaign side by side and then determine which one works best. Create multiple versions of your email campaigns with different attributes; start the A/B test and choose the one that turns out to be a gold mine.
Gather Data with Analytics & Reporting: This feature makes it easy to gather data related to the campaign progress. Also, Moosend is effective for other attributes like Activity by Location, Unsubscribed, Devices Mostly Viewed On, etc., to track and gather data.
Pricing
Moosend pricing is available in Free Trial, Pro, Enterprise.
Moosend Free Trial for users is available for 30 days. In this trial, users get unlimited emails, automation workflows, 1x Landing Page / 1x Form.
Pro plan of Moosend begins at $9/month for 500 subscribers, and the price increases with the number of subscribers.
Enterprise Plan is a custom plan in which the pricing depends on the requirement. In addition, the plan provides onboarding support, migration, and Security Assertion Markup Language (SAML).
Bottom Line
Moosend introduces you to the world of email marketing, where you can create the most responsive and attractive newsletters that amaze subscribers. Moosend tool is the best match for someone who wants to level up their tactic of email marketing for small business, startups, or one in need. Additionally, its integration feature connects you with eCommerce platforms, making it a perfect choice for eCommerce marketers to market their products.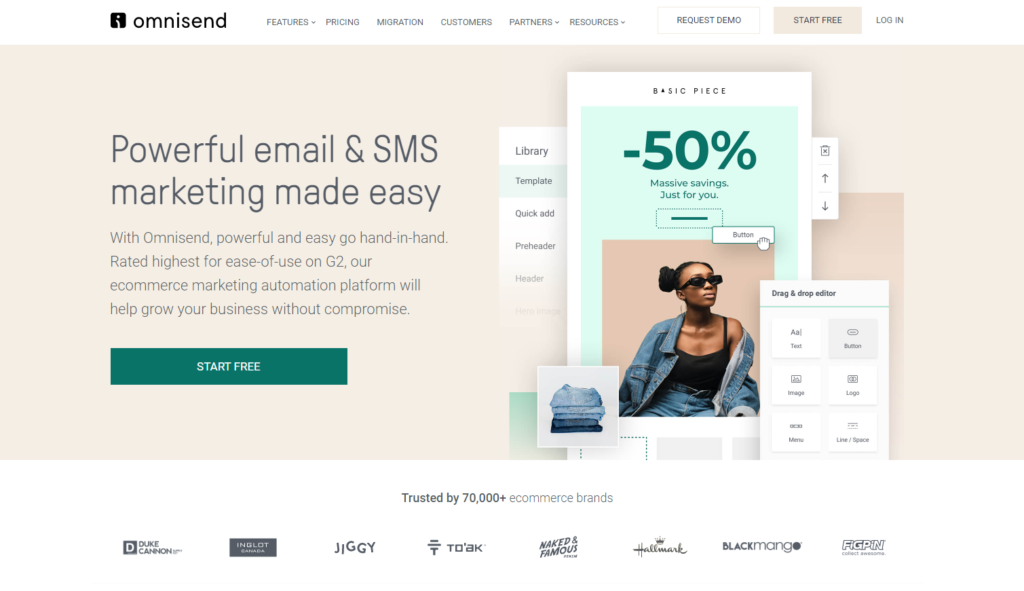 Overview
Next on the list is Omnisend!!
Like other tools, Omnisend is an effective tool of email marketing for small business. It's an omnichannel marketing automation platform for eCommerce businesses. The tool offers a user-friendly drag-and-drop Visual Composer for emails, pop-ups, landing pages to design an engaging customer base. With this eCommerce marketing automation platform, you'll experience great help growing your business. Undoubtedly a powerful easy-to-use tool that is rated best on G2.com



G2 User Ratings
Top Features
Create engaging campaigns: With the Omnisend Content Editor, you can create engaging email campaigns and newsletters to improve your email CTR. There are pre-made themed templates that are ready to use, and you can customize them with your logo, marketing content, and contact details.
Premium Automation Capabilities: The automation feature of Omnisend supports you to choose pre-built automation workflows. Also, you can build your own customized automated messages with the No-code Automation Editor.
One-Click Integrations: One-click Integration feature of Omnisend supports over 30 popular apps. So if there is any feature that Omnisend doesn't offer, you can use integration for it.
Easy Software Migration: Omnisend makes migration a breeze with one-click eCommerce platform integrations, 24/7 support, and a complete data sync. Make the switch and have your first automation up and running in just 30 minutes, which is impressive.
Product Picker: The Product Picker feature of Omnisend helps to identify product photos, titles, price, and brand colors just with a single click. No need for coding; you'll save time; all you have to do is select the product from your online store and automatically insert it into your newsletter and send it.
Pricing
Omnisend offers three pricing options: Free, Standard, and Pro plans.
In the free plan, you reach up to 250 contacts and 500 Emails/month.
Standard Plan will reach up to 1500 contacts with 18000 emails/month at $25 per month.
Whereas, the Pro plan gets you 2500 contacts with unlimited emails per month, which will cost you $59/month. But, of course, if you want to increase contacts, then the price will also increase.
Note: If your contact increases, the price for these plans will change.
If you are an individual, a free plan is perfect for you at the start. However, Standard and Pro plans will work best for small and large businesses as the pricing is affordable, and you get additional features.
Bottom Line
Omnisend is suitable for online stores of all sizes and serves many industries. It even works best, if you are a beginner or have a small business You can get started with their free plan and check whether its feature best aligns with your need or not.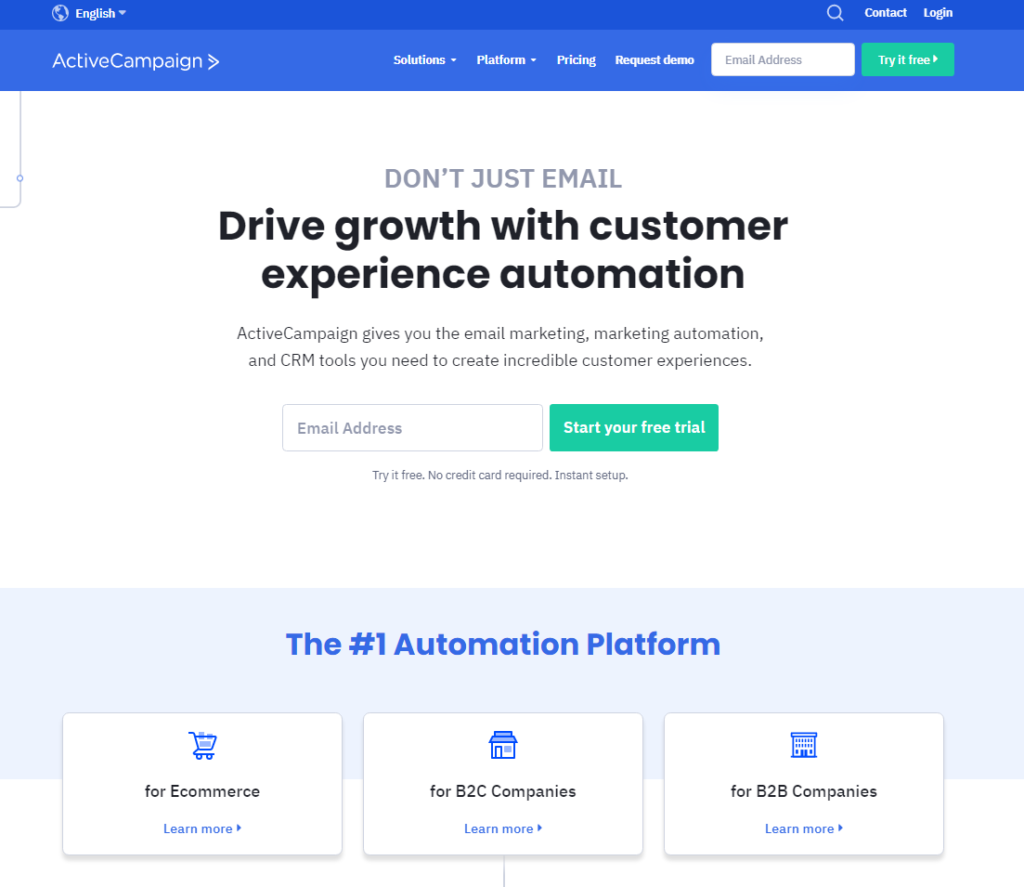 Overview
ActiveCampaign offers email marketing for small business that supports you to send a one-time email blast to everybody on your distribution list. Additionally, if you'd like to target an email to a specific list segment, you can do that with the platform. You can send emails to specific contacts on a schedule. Just set up your dates and let the system do all the work. And if you're looking for a solution that will send an email to people who've just joined your list, ActiveCampaign offers an autoresponder for just that purpose.


Top Features
Custom forms for Landing Pages: ActiveCampaign's tool let you capture visitor's information and use automatic tagging for new leads. Then place them into a welcome funnel, and inform the team about the new conversion.
Journey builder: ActiveCampaign has the journey-building capability to form and review automated engagement paths. Lets you see where the leads are disengaging, so you can make the right strategies to bring them back into your funnel.
Machine learning: The ActiveCampaign offers predictive analytics via machine learning to spot trends and make lead predictions. It scans your data to quantify the success probability of all leads.
Multi-channel orchestration: It automatically engages with your audiences through different channels, like Facebook Ads, live chat, and SMS messaging.
Site and Event Tracking: This feature helps in site and event tracking of various online activities of your leads. And you can improve their experiences.
Lead Scoring: Lead scoring is an integral part of ActiveCampaign's system. It has two scoring types – contact (to trigger emails to leads) and deal scoring (to focus on the sales team and track their progress).
Asset Testing: ActiveCampaign features asset testing tools that show which messaging, CTAs, Images, etc., are best for each audience segment. The split action is the tool that empowers you to test entire workflows against others.
Attribution: ActiveCampaign offers a robust attribution set to highlight which marketing campaigns, channels, etc., are driving the most results. It monitors conversions, downloads, eventual deal wins, and ROI to pinpoint and prioritize top-performing marketing efforts.
Pricing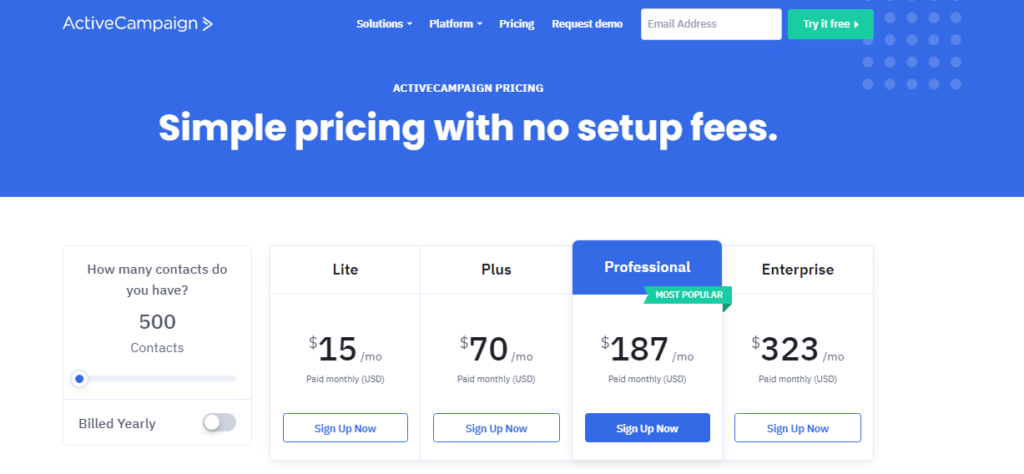 ActiveCampaign has four pricing tiers that increase as your contacts increase.
The lite version costs $15/month with 500 contacts. The Plus, Professional, and Enterprise Plan are priced at $70/month, $187/month, and $323/month, with a 500 contact cap.
The company negotiates prices for enterprise plans with 10,000 contacts and above. The same is true for the plus and professional tiers after 25,000 contacts.
All plans come with a 14-day free trial after that, you can choose from the above pricing.
Bottom Line
ActiveCampaign is most suitable for companies with a bit of experience in email marketing for small business or those ready to take their efforts to the next level; they can easily start with marketing automation tools. You don't need to be an expert, and even beginners can follow the onboarding video and set it to go.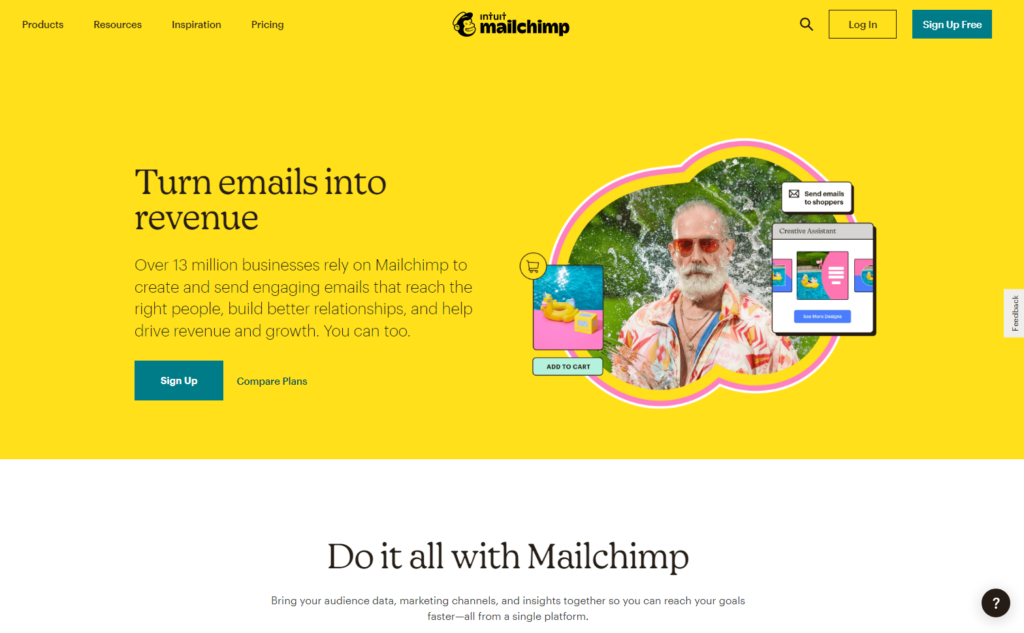 Overview
Mailchimp is one of the free email marketing tools that have an excellent eCommerce and email marketing platform that provide an easy drag-and-drop email builder, autoresponders, segmenting contacts into groups, and simple tracking for analytics. It allows you to setup delivery times based on the user's time zones, and you can setup segmenting based on geolocation.
Here is What the G2 review
      G2 User Ratings
Top Features
Campaign creation: Mailchimp allows simple and effective campaign creation and delivery of email campaigns. It enables easy handling of customer tagging, subscriber lists, detailed reports, etc., for better analysis and growth.
Customization: The platform's users can easily customize the tool to categorize their email list to a wide range of specific audiences.
Automation: The automation feature of mail chimp unlocks the ability to create a single email or an email series that sends automatically based on predetermined triggers.
Custom Forms: It handles the custom forms and gets all updated data across your system.
Email Blasts and Targeted Emails: The feature allows you to send emails to specific segments of customers via RSS-to-email and automated workflow features.
Reports and Analytics: It provides various reports and analytics data to help you figure out who is interested in your emails via their clicks, scroll, and response rates.
Pricing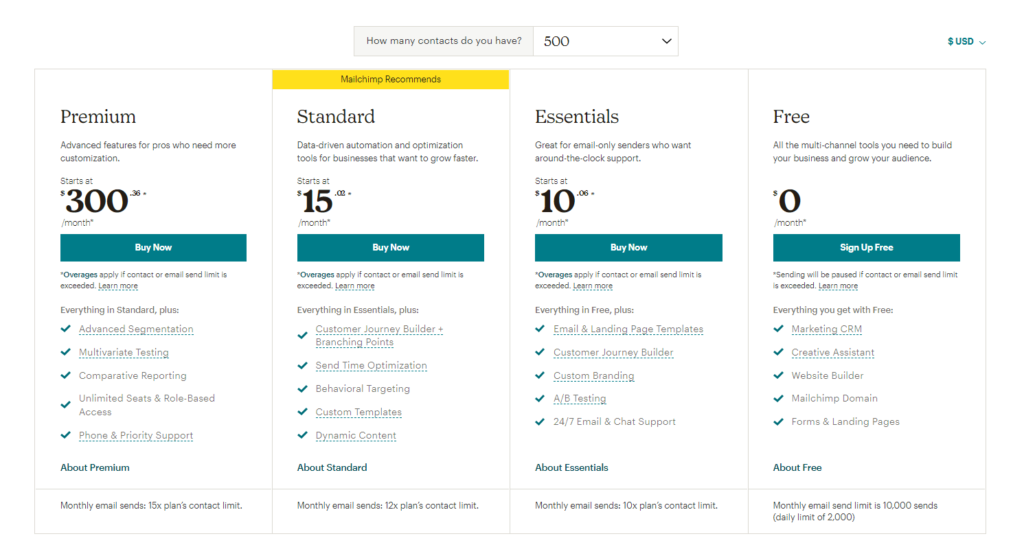 Mailchimp offers four different Pricing plans Free, Essentials, Standard, and Premium. Each set comes with there own features:
You receive a monthly limit of 10,000 emails in the free plan and a daily limit of 2000 emails in the free plan. Good for new businesses or perfect for someone exploring email marketing.
Essentials Plan: $10.06/month for 500 contacts, up to 50,000
This plan will work fine if you need basic automation, custom branding, and A/B testing with a higher email limit. If you have more than 500 contacts, then the price will be higher
Standard Plan: $15.02/month for 500 contacts, up to 100,000 contacts
The standard plan gives you multiple starting and branching points custom-coded templates with a maximum of 5 users.
Premium Plan: $300.36/month for 500 contacts, up to 200,000 contacts.
The Premium plan is perfect for someone with a strong email marketing strategy and works fine for a team size of more than 5 members. However, if you have more than 100K contacts on your list, you'll pay $705.20.
Bottom Line
Mailchimp is one of the finest email marketing platforms having 11 million active customers worldwide. Their service of email marketing for small business is a favorite among entrepreneurs and bloggers who appreciate great designs and deliverability. Also, it's nice if you have an eCommerce store or plan on automating emails and you'd like to make your automation workflows more efficient.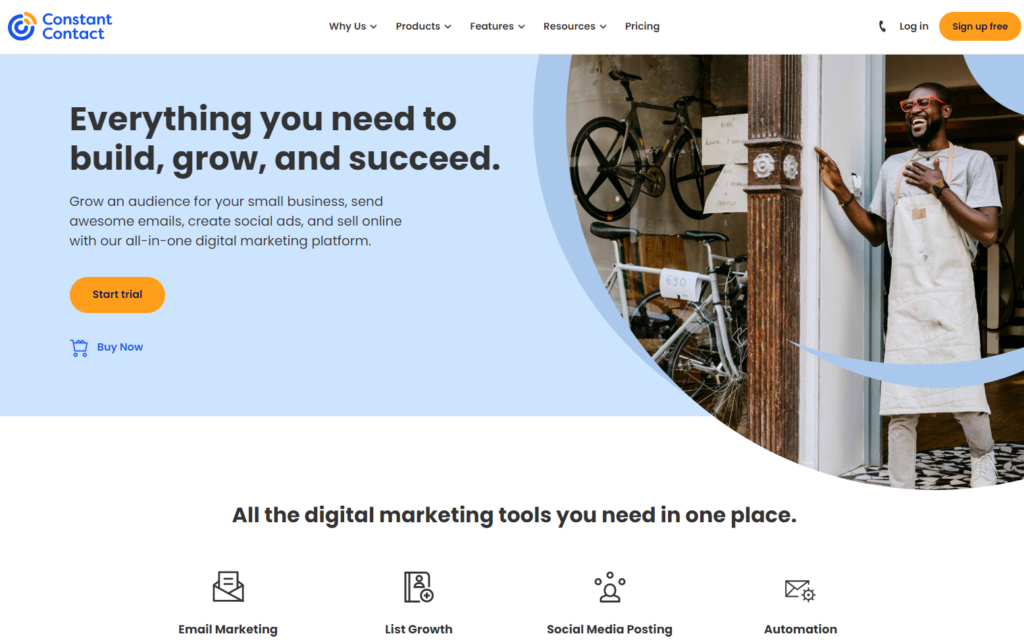 Overview
An affordable and easy-to-use Constant Contact is an effective email marketing tool that supports you in creating email marketing templates, managing and automating campaigns, nurturing customer relationships, and building contact lists. Also, it provides better customer support and simple ways to add contacts. Hence its automation functions and template designs are the best matches for businesses that use small campaigns and other part-time email marketing.



G2 User Ratings
Top Features
Versatile Contact Management: Constant Contact lets you effectively manage contacts lists, even if your contacts are on a different email marketing system. You can import contacts from a text file or spreadsheet.
Templates and Forms: The templates and forms feature of Constant Contact offers over 400 templates and custom template options for different types of messages for easy categorization.
Reporting and Analytics: Constant Contact offers the most comprehensive reporting tools to get real-time analytics which is also efficient in showing the kind of device your email is opened on.
Social Media Tracking: Just like most email marketing services, Constant Contact offers regular reports, but it also efficiently tracks and reports social media stats like keeping a check on the number of tweets, likes, shares, views, etc.
Easily Add Calls-to-Action: Constant Contact templates simplify adding the calls to action (CTAs) feature to your email campaigns. Doing so will help you drive customers on various platforms.
Pricing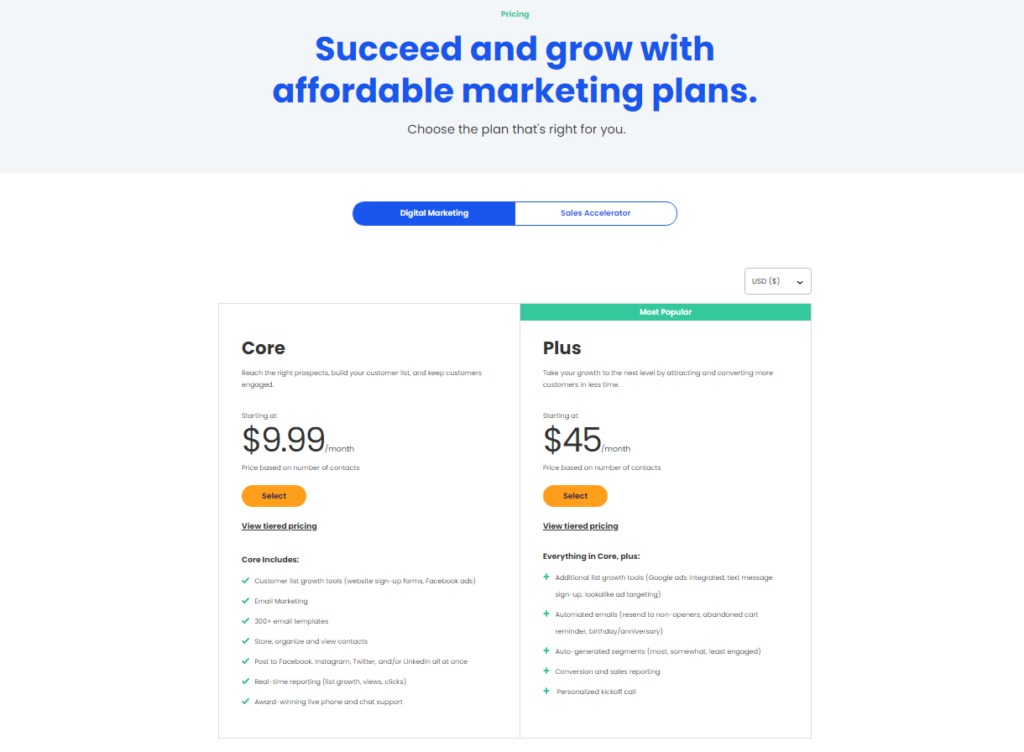 Constant Contact has no free plan, just two paid plans Core and Plus (and a 60-day free trial)
Core Plan starts at $9.99/month.
This plan works best if someone wants to build customer relationships, create professional emails, and revenue-generating results.
Plus Plan starts at $45/month.
The Plus plan holds better automation features, and it's well suited for the small campaigns that Constant Contact is best known for.
Note: If you have more than 50,000 contacts, you have to call Constant Contact support for your custom quote.
Bottom Line
Constant Contact facilitates you to track your campaign results in real-time. You can efficiently see everything like CTR (Click-Through Rates) and the Open Rates track for each subscriber. You'll experience that it's a really comfortable platform to work. Even comfortable enough for people who aren't "techy", can easily find themselves creating attractive newsletters. In addition, its automation functions and template designs bring creative ideas to your email marketing for small business.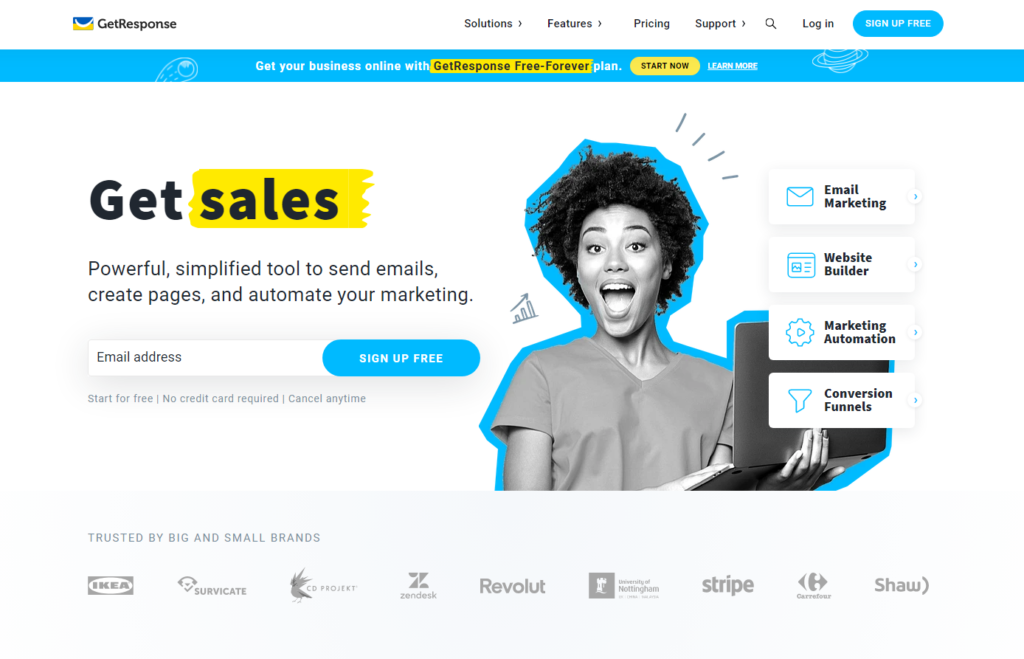 Overview
GetResponse is one of those marketing platforms that offers a CRM, landing pages, service of email marketing for small business with advanced automation. Its advanced features like chat, website builder, eCommerce, webinar hosting, landing pages, and automated sales funnels make them considered favorably by a lot of online businesses. They are not like "traditional" free email marketing tools, and they're all in one eCommerce and online marketing solution.



G2 User Ratings
Top Features
Autoresponders: The email autoresponders are automated messages sent to subscribers instantly at a specific time or when a particular event occurs. It helps maximize conversion rates via email marketing strategy.
Email Analytics: This feature of GetResponse enables you to learn more about audience behavior through click-through rates and more.
Email Creator: With free templates, it is easy to customize any design that gets the reader's attention.
List Management and Builder: Create well-sorted email lists with GetResponse's streamlined list building and segmentation tools.
Transactional Emails: Uses API or SMTP-triggers to send customers transactional emails and notifications. So, they are aware of their purchase confirmation and location.
Pricing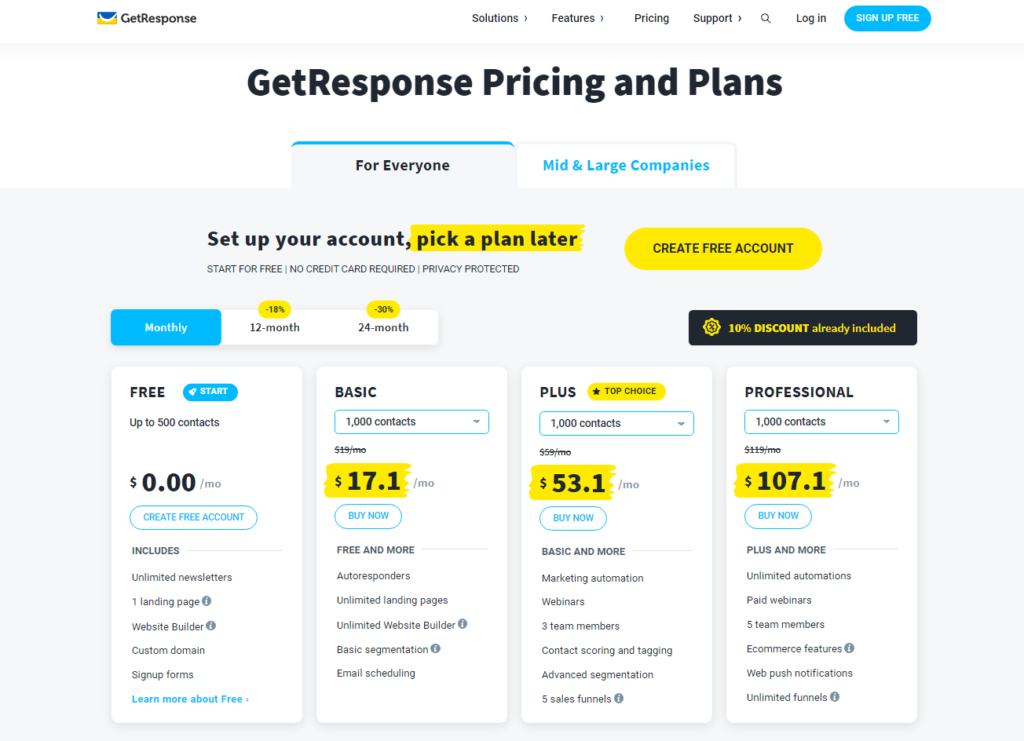 Get Response offers 4 plans Free, Basic, Plus, and Professional.
The free plan offers up to 500 contacts, including unlimited newsletters, 1 landing page, Website builder, etc.
The basic plan starts from $19/month and a 10% discount making it $17.1/month.
Plus plan starts with $59/month and after discount $53.1/month.
Professional plan starts with $119/month and after a discount of $107.1/month.
Note: Every plan includes autoresponders and unlimited emails. The pricing of paid plans will increase if the number of contacts increases.
Bottom Line
ActiveCampaign is one of the world's leading service providers of email marketing for small business. It's known to work best for small to medium businesses. The scalability of this tool makes it grow together with your business. It can manage large subscriber lists. If your primary needs are for simple and intuitive design capabilities, an extensive library of templates, and plenty of automation functions, then YES, ActiveCampaign is suitable for you. 
What is the Best Email Marketing Service for Small Business?
Till now, you have read enough information on how good will come by using email marketing for small business. But if you are still wondering which one will be the best email service for your business. Then, read further we have aligned some suggestions to help you choose the best one for you.
For this, you have to do some thinking about the goals and techniques you require. Once done, identify the number of features you require for your email marketing. Then, from their decision become easier, just look for a platform that best matches with requirements.
Almost every platform in this article offers Free Plan or Free Trial. It's a great way to know about the features of various email platforms. So experience it, then choose a platform that best aligns with email marketing needs.
You can look through your own inbox for promotions and newsletters that you usually receive. Doing this will give you an idea of template style from such personal touch emails. Then look for platforms that will help you recreate the style.
Wrap Up
After spending long hours researching and understanding various features related to email marketing platforms, we compiled this article. We hope this article will end your search for the right service of email marketing for small business. All the email marketing tools defined above are efficient in their task. So whatever option you choose, we suggest you identify your business needs then choose a platform that best aligns.
Links
My personal Top 6 Email marketing services for small businesses: