Are you concerned about an impending global recession? Growing a business during an economic downturn can cause major anxiety – unless you prepare!
I've been a Digital Marketing professional for almost a decade, and I can tell you – there's no ONE magic way towards success. But you can take plenty of practical steps to safeguard yourself from a recession. Today, I share my top 5 digital marketing strategies to grow your business during a recession!
One thing all business owners need to know is that recessions happen. They are standard parts of the economic cycle, and though they can be challenging, they are not a death sentence to all companies.
The difference nowadays is that we are a global market, and what happens in one part of the world can have significant impacts elsewhere. That said, recessions are not depressions, and if you have a service or product people want, there will always be ways to make money!
So, take a deep breath and don't panic.
The organizations that thrive during these times are either well prepared or flexible enough to pivot their intentions and resources to protect their bottom lines or both!
Now, let's get into my top 5 proven ways to grow your business during a recession.
Focus on the customer experience
The customer shopping experience is a lesson in psychology, especially during tough economic times. Emotions are contagious, and if they feel out of control or anxious in their everyday lives, they become more hesitant and nervous about purchasing. Understanding your customer's wants and needs is crucial. And when every transaction counts, you've got to listen to their feedback and watch their behavior.
Here are a few questions to consider:
Are they just scrolling through your website or store? If so, it may be how you display your information.
Are they stopping and lingering on specific products or packages? Lingering suggests intent, but something is holding them back. Is it pricing, reviews, or quality?
Do you offer a money-back guarantee? This helps establish confidence and control for the buyer.
Could you offer a rewards program or discounts to boost sales and build brand loyalty? Loyal customers typically stick to their brands even during difficult economic conditions.
Are they using your search bar for specific options? What do you need to stock up on or look into adding to your inventory or service list?
If you don't have software that shares customer behavior, you may want to invest in some or find a digital marketing professional to help analyze and review your current processes to maximize your customer's experience. It's an investment worth paying for.
People don't often branch out to new brands during difficult times unless they find savings or better quality products that have longevity.
Automation
Building a business takes a lot of work, especially if you are doing it all alone or with limited employees! All that time, from inventory checks to logistics, sales, and customer service, adds up. And since time equals money, innovative entrepreneurs are investing in new automation technology designed to save you time.
From initial and follow-up email campaigns to customer service chatbots and workflows, automation keeps the structure of your business flowing with almost no effort on your end. For example, a customer connects with a chatbot to ask a question about a product on your website. They then purchase the product, and an email confirmation is automatically sent.
Another email pushes out once the product is set for delivery. Then another follow-up thank you, feedback, or survey email goes out a few days after the customer receives their product. This automation saves you time to send those out individually or hire a person to handle all those tasks.
Once a customer is in your system, automation can nurture those relationships with promotional emails, birthday notifications, or quarterly reminders, building positive connections and brand loyalty along the way.
Influencer Marketing Collaboration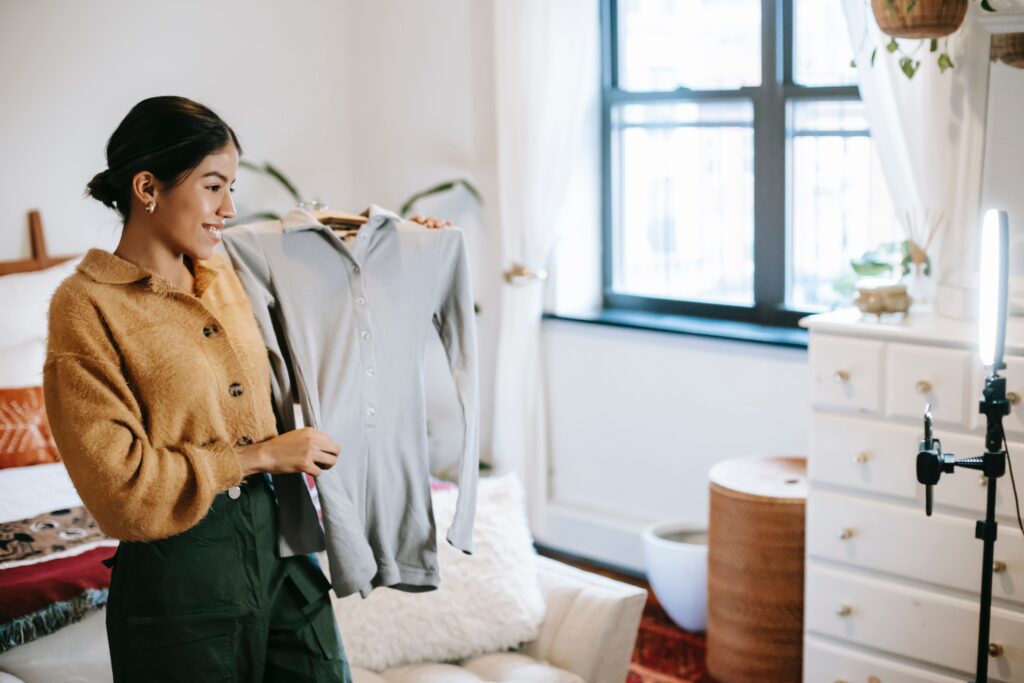 Influencers positively impact any business, but certainly an eCommerce store that doesn't have a big, fat marketing budget at its disposal! Choosing the right influencers to help build your brand is essential. Consider your product line or service; who is your target audience?
An influencer needs to feel authentic to the items they are promoting. You wouldn't necessarily choose a health and wellness influencer to promote your automotive parts store or a toy reviewer to discuss your latest anti-aging supplement! Leveraging an influencer's network can be a lifeline during tough economic times because they are a direct link between you and the consumer.
They only get paid if you do, so the kickback you give them comes from an actual sale. When you team up with an influencer, there is no "ad-spend," and saving that money from running ads can help pad your bottom line. Especially if other aspects of your business, like logistics, cost more.
Affiliate Referral Marketing
Instead of hiring a sales team to get out there and promote your products, affiliate marketers are independent contractors. They get out there and sell for you for a cut of the profits.
This is a great way to save money as you look to scale up your business.
Why?
Well, because they absorb the costs of the ad spend, create the curiosity, the content, and build up the brand for you. During an economic downturn, these individuals may even offer a reduction in their cut to help generate more business their way. This option is much more affordable to attract more customers and clients.
Remarketing/Retargeting Campaigns
Instead of casting a wide net to every Facebook or Instagram user in a specific location or age range, you may want to consider a remarketing campaign, also known as retargeting.
This strategy focuses on reintroducing yourself to users who have already connected with you in one way or another. When you track the activity on your site, you collect data on email addresses and user profiles. You know that these people have viewed your products and services and have shown interest.
You now have a second chance to reignite their curiosity and clinch a sale. You can target them on Facebook, Instagram, or even through Google Ads. Retargeting uses cookie data while remarketing typically uses email.
For example, if a customer looks at a specific beauty product for a long time but never purchases it. You can use that data to remarket them via Google Ads to remind them of that cream or face wash they never bought.
Or you could send out a reminder email to that user, offering a slight discount to encourage a sale. Chances are, this happens to you personally all the time.
Why shouldn't you use the same methods?  
Regardless of your chosen methods, remember that businesses need resiliency to thrive in a recession. It's not impossible; it just takes planning, patience, and the ability to pivot quickly when an approach isn't successful.
I hope all this information helps you feel better prepared because a recession will come – someday! Thanks for tuning in! Be sure to like this video and subscribe to the channel so you can take advantage of all my professional experience!