Are you overwhelmed by the thought of managing Facebook ads for clients? You're not alone! Many digital marketers feel this way, but with a little strategy and planning, it's easy to manage Facebook ads like a pro. In this blog post, we'll outline a step-by-step process for managing Facebook ads effectively and efficiently. So read on for tips on how to get started!
The right ways to manage Facebook ads for clients
As a digital marketer, you're likely spending a good chunk of your time managing Facebook ads for your clients. But with so much to keep track of, it can be tough to make sure you're doing everything the right way. In this blog post, we'll walk you through the best ways to manage Facebook ads for your clients. So whether you're just starting out or you're looking for some new tips, read on for our best advice!
1. Create a Business Manager Account: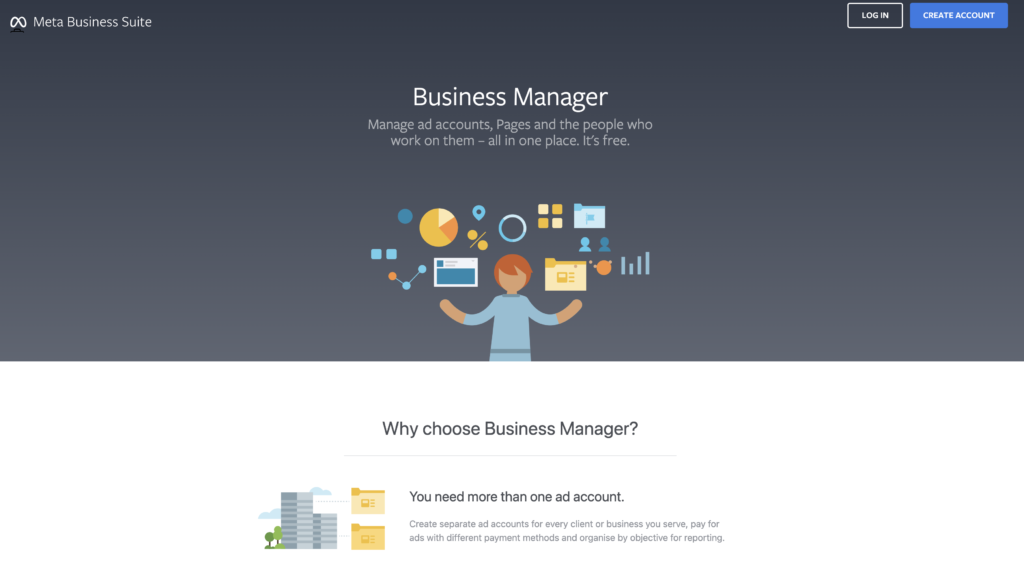 Before you commence the job of managing a client's Facebook ads, you have to make sure that you've been added to his/her Business Manager and Ad Manager accounts. Facebook created the Business Manager account with the sole aim of keeping work and life matters separate. Here the owner or admin of a business can add employees and guests and control their access based on their roles in the company.
A Facebook Ads account, on the other hand, is a sub-tool under the Business Manager account where employees or guests run and manage Facebook ads. If your client already has a Business Manager account, then you can proceed to the next key point in this article. However, if they don't have a Business Manager account go ahead and ask them to create one or you can help them with the task.
Below are the steps to follow to create a Facebook Business Manager account.
How to create a Facebook Business Manager Account
Navigate to https://business.facebook.com/overview and select "Create Business"
Enter your business name and email
Verify if you want Facebook to notify you of every action taken in your Business Manager account via email.
Congratulations, the account has been created. Next, you have to create an Ad account and ask your client to grant you the necessary access that you need to manage his/her ads.
To create an Ad account
Navigate "add accounts" in the already created Business Manager account and select "Add".
Select "Create a new Ad account"
Add necessary details like time zone, currency, payment method, etc.
Add guests and users to the Ad account and set their access. Only 3 permissions are available: Admin, Advertiser, and Analyst. Don't forget that it is better to assign the Advertiser's access to Ad managers
Sounds too complicated? No need to worry, there are free tutorials on how to create this accounts and effectively use them.
2. Ask your client to set up and use Meta Pixel:
Facebook or Meta pixel is a piece of code that when generated and placed in a website, collects data to track Facebook ad conversions. Meta pixel helps to optimize ads, build target audiences and remarket to a custom audience. Not only this, Meta Pixels gives a clear measurement of how your Facebook ads work. This may include data that show the web actions that people take through your ad, specific target audience demographic, and automatic tools to increase sales.
Meta pixels track different customer actions and group them as events. Some of these events include the lead event, purchase event, add to cart event, add to wishlist event, search event, contact event, donate event, start trial event, subscribe event, etc.
Note:
As part of our pro tip on how to manage Facebook ads for clients, we advise that you keep your Pixel codes safe. We know that Pixel codes are not in high "robbery" demands as the credit card pins, but they can be compromised too. If a person with ill intention gets hold of your Pixel Code, he might add it to his/her website. This will in turn keep track of unrelated data which might confuse you and ruin your marketing efforts.
3. Ask for ad creatives:
Ad creatives are simply the visual form that your client's Facebook ads will appear to your target audience. This could be as images, videos, slideshows, carousels, collections, and so on. Ad creatives, followed closely by ad copy, are the two most important ingredients of a successful ad campaign. Ad creatives take preeminence because the human mind is programmed to assimilate and remember up to 90% of visual information.
Because of this, examining the ad creatives that your clients provide is an important way to manage Facebook ads for clients. Note that some clients provide ad creatives with emotional attachments, and would resist your suggestion to use a better one.
Here's what you should do.
Point out the consequences of using a low-quality ad creative, some of which include high cost, low ranking ad distribution. If your client still insists on using the low-quality creative, remind him that if the results don't meet the marketing goal it will be his/her (the client's) fault.
4. How much your client should spend on Facebook ads in the first month:
Sometimes, a client might have an idea of how much he/she should spend on Facebook advertising. Sometimes, they would be clueless.
But to successfully manage Facebook ads for your clients, you have to follow the marketing rule of thumb that states that you should only invest 2-5% of your sales revenue into marketing and campaign.
This, however, depends on the stage of your client's business. If his/her business is at the infancy or youth stage with little to no revenue and/or customers, then you should follow the "start small" ad budget policy.
Simply put, the "start small" ad budget policy recommends that ad managers only run $10 – $30 ads per day or $300 to $500 ads per month. This policy helps to cut down risks of over-budgeting that may occur while running test ad campaigns (more on this later).
5. Launch test campaigns and choose the right optimization.
The thoughts of the kind of money one WOULD make IF an ad campaign is successful usually releases a high amount of dopamine and excitement. Now, these yet-to-be achieved victories could make your client pressure you into immediately creating high-budget Facebook ad campaigns. After all, more ads equals more sales, right?
Wrong.
As part of our tips on how to manage Facebook ads for your clients, we advise that you don't be deceived by agencies or copywriters that claim to have the best formula for creating high converting ads. Truth is, they probably carried out some behind-the-scene A/B testing before coming up with that perfect ad formula that you now admire. What you should rather admire (seek to learn) is how they carried out that preceding A/B testing.
Simply put, A/B testing or split testing involves running a series of ads to determine what works best. To determine if a test campaign is good or not, you should check its Click-Through Rate, Quality score, Conversion rate, and Bounce rate. It's advised to run 3-4 test ads and choose which returns positive results on the above factors.
Note that sometimes, no single test ad campaign will return an all-around positive score. When this occurs, you need to discover the source of the problem and tweak it to get the result that you desire. For instance, if a test ad returns a low Quality Score and average CTR, and a short bounce time, this means that you're targeting the wrong audience demographic and you should make the necessary changes.
6. Facebook ad reports for clients
Facebook gives a standard client reporting interface for people that use the Ads Manager. This report section shows a 17 column report that contains generic data that are sometimes unnecessary. Exposing novice clients to this form of report isn't an effective way to manage Facebook ads for clients as it might confuse them or make them concentrate on irrelevant data.
So, unless your client asks for that generic report or specifies the data he wants to be monitoring, we advise that you customize the reports you send to your clients. You can do this by navigating to the "Edit Columns" in the Ads Manager and adding or removing important columns.
In addition to this, the frequency of your reporting could make or mar your collaboration with that client. It's a given that some clients might prefer if you report back to them within hours or days. But this short-paced report could ruin that collaboration because you might not be able to produce sufficient data to show if your ads are doing great or not. To prevent this, always report the progress of your ads after every 14 days or at the beginning or end of the month. That way, you'll have enough data to measure your progress.
How to manage Facebook ads for clients – steps involved in setting up and adding Meta Pixel to your client's website
Below are the steps to set up and add a Meta pixel to your client's website. Remember, you can ask your client to do this, or offer to do it yourself (as a bonus package or for a fee).
How to set up Meta Pixel
Navigate to the Facebook events manager
At the left menu, click "Connect to data source"
Click "Get started".
Select "Facebook Pixel"
Click "Connect"
Name your Pixel and enter the website URL
Click "Continue"
You will be presented with 2 options on how to add the Pixel source code to your website. The first is adding Meta Pixel Manually, while the second is by using Partner Integration.
How to add Meta Pixel Manually
Copy the Pixel code
Locate your website's header/header template
Paste the Pixel Code at the bottom of the header
Click "Continue"
Tune on "Automatic Advanced Matching" to verify the information you put
Click "Continue"
You can proceed to add Pixel Events using the "Event setup tool"
When you're done, click "Done"
How to add Meta Pixel using Partner Integration.
Partner integration is a partnership where a company offer's another company's product or service that complements theirs. Therefore Facebook Partner Integration involves connecting other applications to Facebook to improve the effectiveness of campaigns and workflow for other businesses. Some of facebook's integration partners include Amazon, Yahoo, Apple, Microsoft, WordPress, etc
Below are the steps to add Meta Pixel to your website using the Partner Integration method.
Click "Use partner"
Select the relevant partner.
Summary: How to manage Facebook ads for clients
Managing Facebook ads for clients can be a challenge, but it's definitely worth it if you succeed. If you've started your own digital agency, you're already on the right track to achieving great results. By following the tips in this article and optimizing your campaigns for ecommerce sales, you should see an increase in revenue from your Facebook ad efforts. Have you tried any of these tactics? Let us know how they worked for you in the comments below!